New bike time!
After barely a year with the Norco Range, I got a hit on one of my ebay searches for another bike on the wishlist. I've read great things about Canyon's Spectral, but they're very difficult to come by in the States as they are a German brand that didn't have a U.S. sales outlet until late last year, when they launched their direct-to-consumer model in the U.S.A (similar to YT Industries).
A few emails back and forth with the seller, an offer was made, and the bike arrived a few days later!
The Spectral is actually the first, brand new complete bike that I've ever purchased! The only other bike I've bought new was actually just a frameset: my beloved '93 GT Zaskar LE (post coming soon!).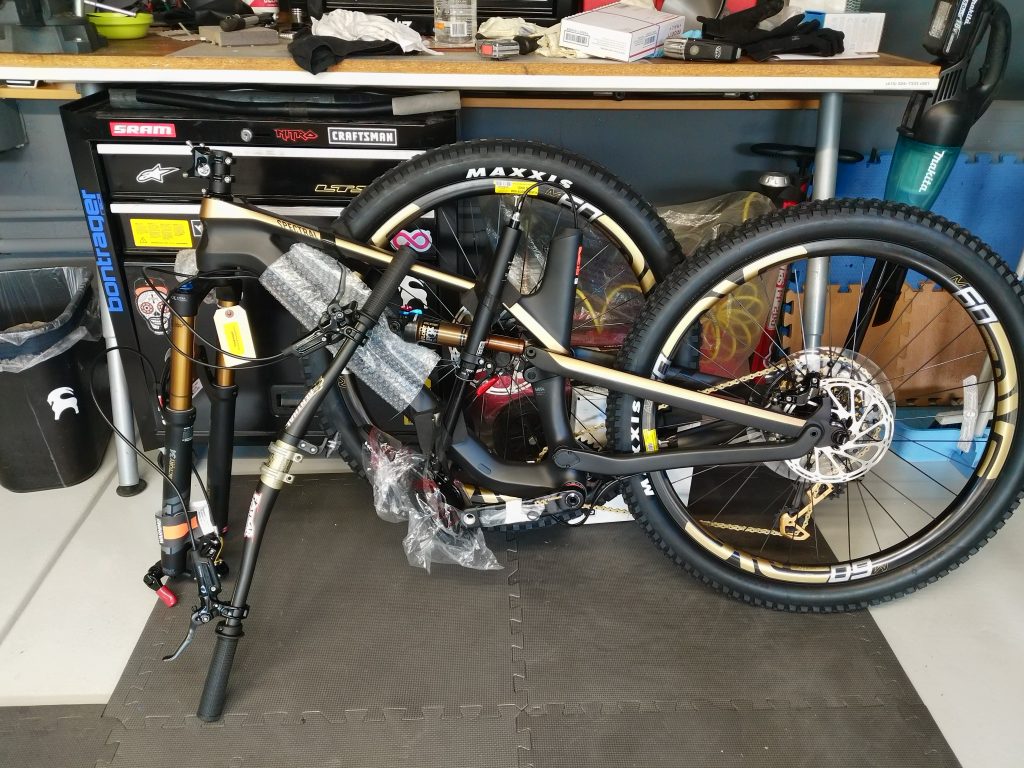 This Spectral CF 9.0 LTD is their top-of-the-line trim for 2018, retailing for $7K(!). Even at that price it's a relative bargain considering the spec sheet. I think a similar build from Trek or Specialized (or any dealer supported brand really) would probably top $10K!
It came oozing with FULL [Gooold!] Sram XX1 Eagle, Ultimate brakes, Enve m60 HV's with Chris King boost hubs, and ultra-wide Maxxis DHF/Rekon 2.6 rubber. Not to mention Fox Factory suspension front and rear, a blingy Renthal cockpit, and a 150mm Reverb to complete the build.
Of course, I had to do what I do…and part all that shit out and swap in the XTR stuff from the Range. I'm a Shimano guy, what can I say?? Plus the parts on the Spectral were worth quite a bit, which I wanted to take advantage of and offset my costs as much as possible.
Here's what I ended up with: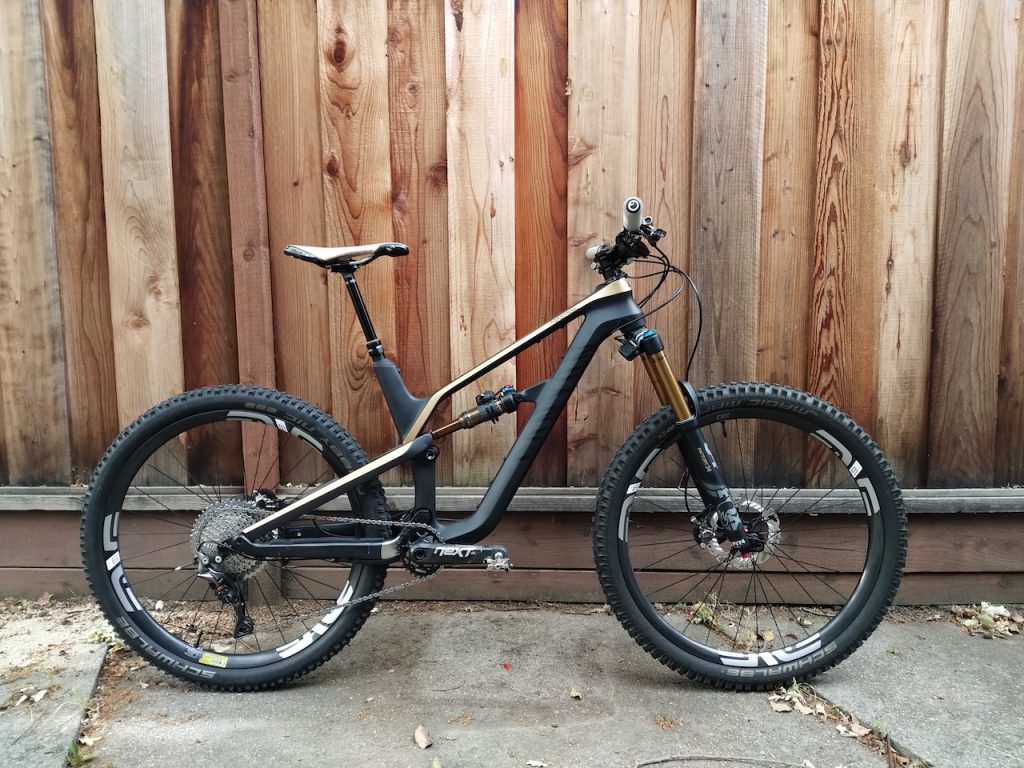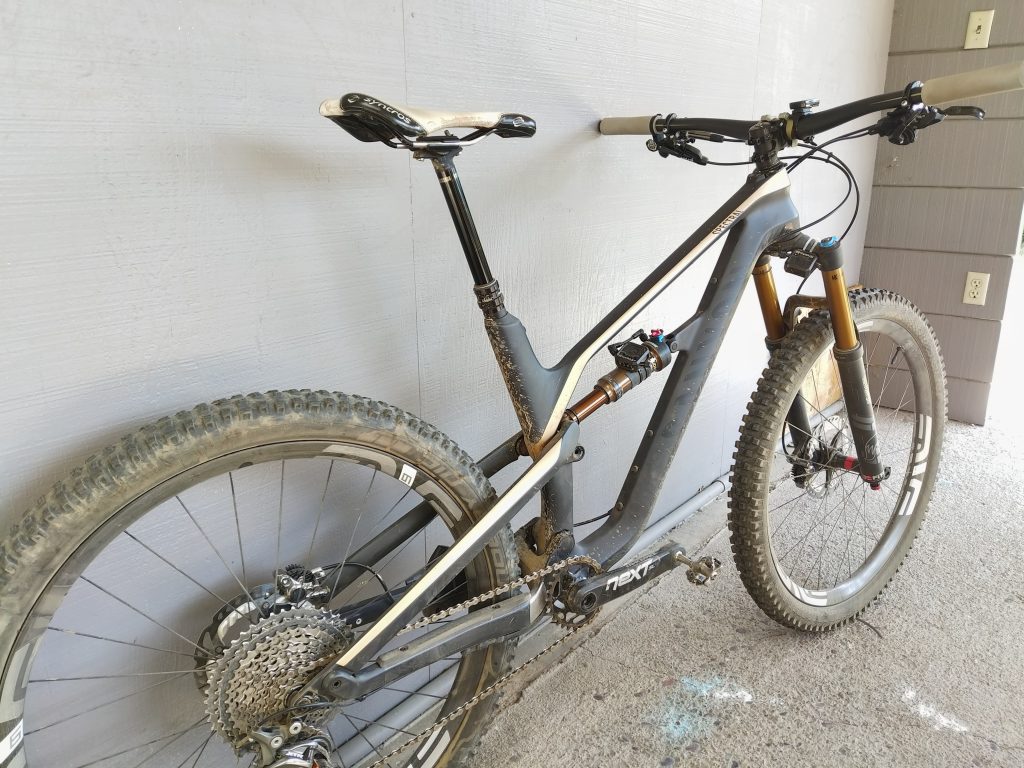 The only stock parts are the frame/fork/shock, Renthal cockpit, and headset! After much deliberation, I even swapped the enve m60/King wheelset for a set of the new enve m630's (30mm internal) on DT 240s. They're lighter (only 1420g!), wider (30 vs 24mm) than the HV's they replaced, and also use my favorite DT 240s hubs! Don't get me wrong, I love Chris King, but the 240s are way easier to maintain, are super smooth, and also come in my preferred centerlock rotor mounting interface! Who can knock on Shimano's XTR Ice-Tech Freeza rotors! They're the best and only come in centerlock!
So far, I only have a handful of rides on the Spectral, but man is it fun! It's a little lighter than the Norco, but very flickable and super agile. It definitely climbs better, but I have missed the 160mm travel of the Range a few times here and there. But overall, I think the 150/140mm setup of the Spectral is very well-suited for most of the Bay Area trails I frequent the most. And thanks to the ShockWiz, I managed to achieve perfect 100 scores on both the Fox 34 and DPS rear shock.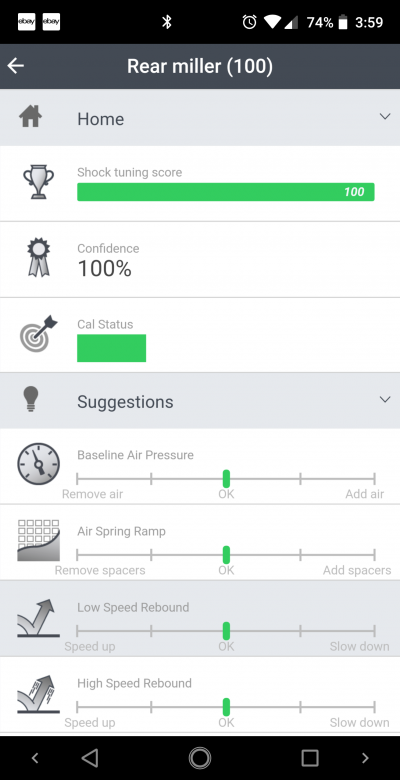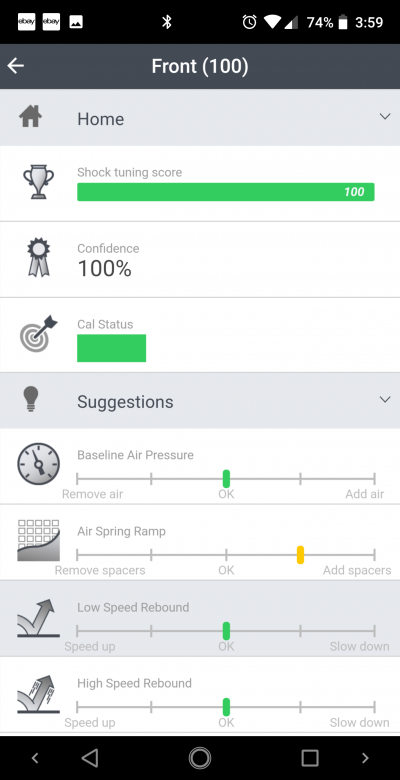 The size Medium I have has a reach that's the equivalent of a Large in the '15 Norco Range. I am right on the edge of Canyon's sizing chart between Medium and Large, and I think the Medium is perfect for me.
I also downsized the Maxxis 2.6 tires to my previous Schwalbe Magic Mary and Nobby Nic combo, which I like a lot. I'm not ready for 2.6 (yet)! I still have the tires, though, so maybe I'll give them a whirl when the Schwalbe's die.
Speaking of which, the Nobby Nic suffered a few pinch flats while on the Norco that have been bugging me. I scored some of the new Slime Premium Tubeless sealant at Sea Otter and had high hopes for the stuff, but have been totally let down by its performance. I haven't been able to get the pinch flats or even tiny holes to seal up with the Slime, even after pushing in a few plugs on the larger holes. I'm really surprised. The rep at the booth had a nice demo and it looked very promising, with their long-lasting [tire] "lifetime" expectancy. I think the issue is that the Slime is kind of thick and doesn't flow like Stan's does, so it isn't able to plug holes as quickly. On my last ride at Joaquin Miller, I was pumping my rear tire after each loop!
When I got home, rather than ditch a perfectly good tire, I decided to install a Cushcore tire insert into the rear (I had scavenged a set on a recent parts swap). Yes, it was as horrible as everyone says it is to install. But I got it in there! And while I was at it, I mixed in some Stan's sealant with the Slime, and it plugged up my pinch flats instantly! Sorry Slime, I tried, but you failed me. I'm going back to Stan's.
Current build: 27.42lbs incl. rear Cushcore insert and pedals…so probably 26.5 without? Not bad.
Anyway, that's all for now. I'll update later with some more ride reports…
2019 Updates:
In my quest to push this bike a little bit further, I swapped in the 2019 Fox X2 rear shock with the 65mm stroke (vs 60mm stock length). That increased the rear travel to about 152mm (best guess). The front got a similar upgrade with a 2019 Fox 36 Performance with 160mm travel and the GRIP2 damper.
Canyon also seems to think this bike can go bigger, as their 2019 Spectral LTD is now spec'd with 65mm stroke rears (for advertised 150mm rear travel) and 160mm front travel using a Fox 36 Factory fork.
I was also happy to discover that it is possible to mount a chain guide to the Spectral using an e-type guide. Canyon provides a special adapter to mount an e-type front derailleur to the rear chainstay: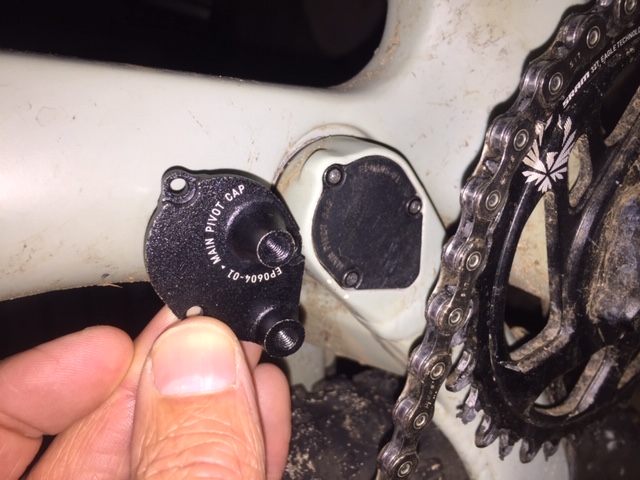 My bike didn't come with it, so I contacted Canyon and they sent me one. I installed a FUNN e-type guide, which says it's not compatible with Oval rings, but it fits perfectly with my AbsBlk oval ring and works great: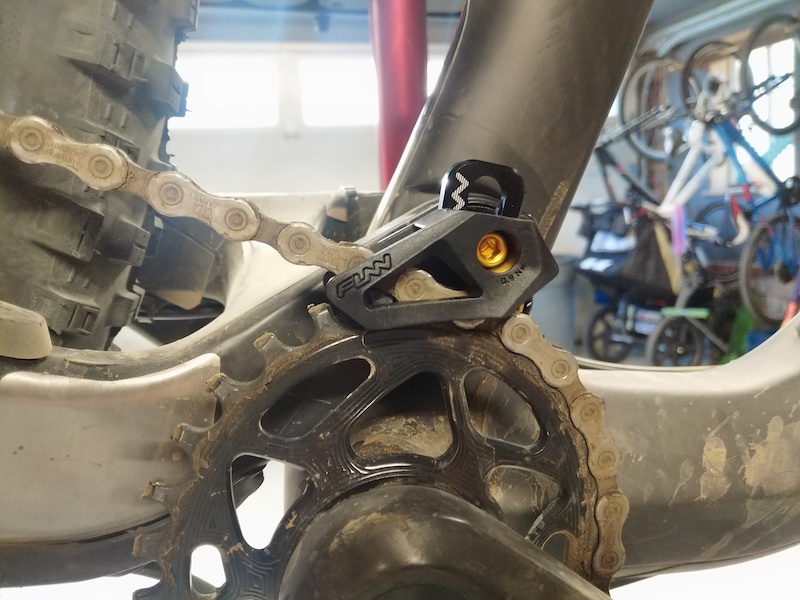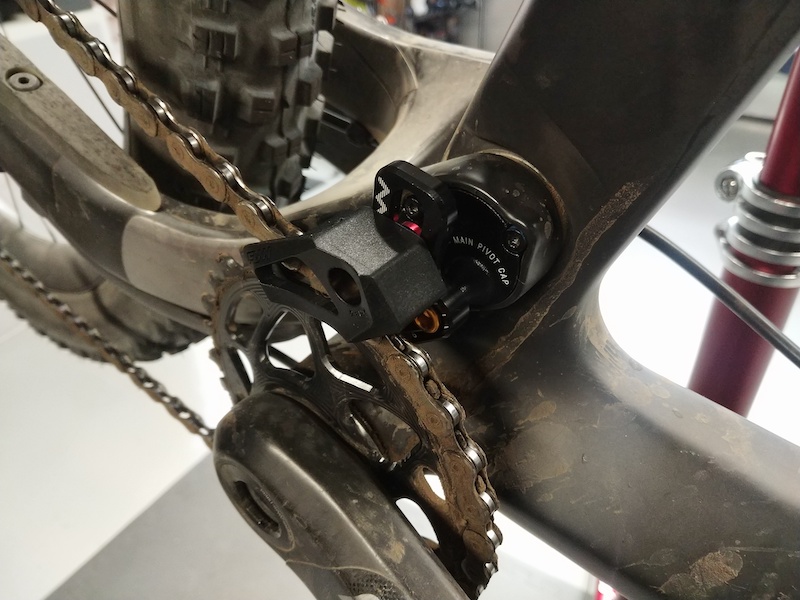 Here she is in all her upgraded glory!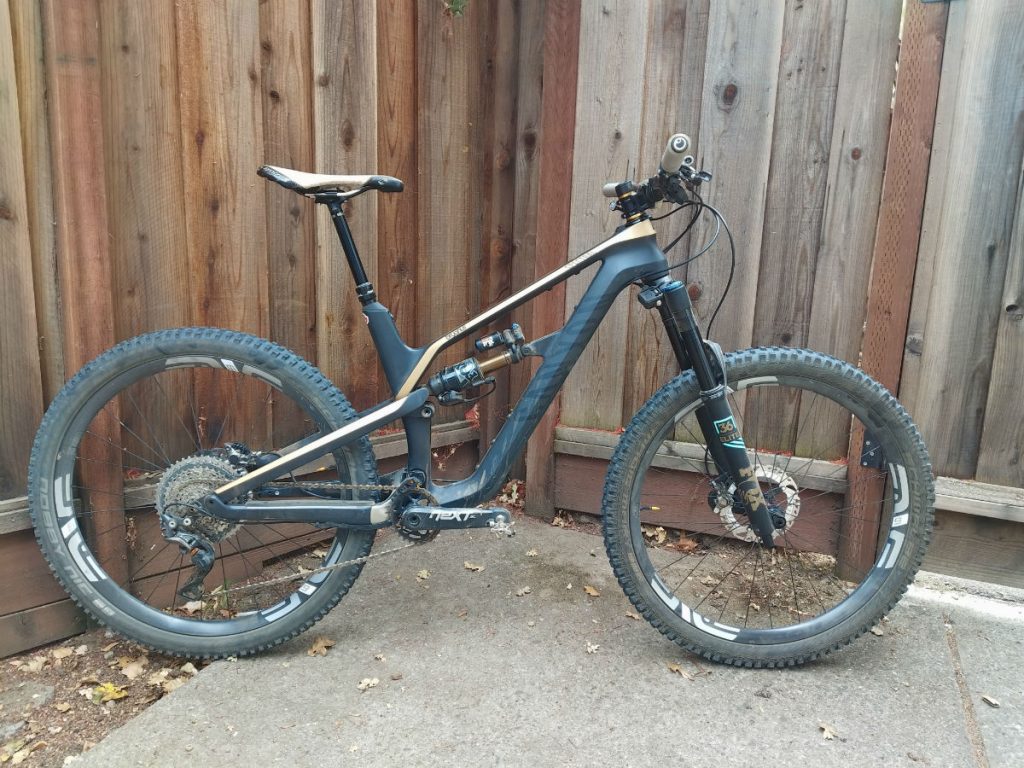 And for anyone trying to figure out how to mount ShockWiz to the X2, here's how to do it:
Read more about this solution over at FeelTheBerm.com and rent your ShockWiz, too!